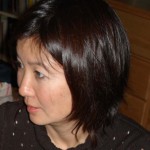 Jeannie R.Lee
Freelance Art Writer and General Editor

PROFESSIONAL
To give enough information here so that you are convinced to give me some freelance writing work. Or if you have Googled me for some arcane purpose, here I tell you what you want to know so you don't have to muck about in my 700 posts. To get my mind wrapped around the concept of summarizing my life's accomplishments on one page. Because lifehacker says that personal findability is ever more important these days.
Experience
Student Success Model Coach – Morongo Unified School District (2006-2007)
Planned and facilitated staff development for all middle school English teachers
Created district-wide pacing guides for English and reading intervention programs
Worked collaboratively with individual teachers in the classroom
Maintained an informational, professional blogsite for teachers: englishcoach78.wordpress.com
Teacher – La Contenta Middle School (1998-2001, 2003-2007)
Demonstrated leadership: English Department Chair (2004-2007), Master Teacher (2006-2007), Gecko Team Leader (2005-2007)
Taught English, remedial reading, Algebra, and science
Naturalist – Naturalists At Large, Pasadena, California (1992- 1995)
Developed and implemented area-specific outdoor education programs emphasizing group unity, low-impact camping, basic biology and ecology
Zine Editor – WomanTalk, Joshua Tree, California (1991- 2000)
Teacher's Assistant – University of Reims, France (1990-1991)
Bike Tour Leader – Student Hosteling Program, Ashfield, Massachusetts (1989)
Education
Art Center College of Design Pasadena, California (Jan 2000-April 2007)
Master of Arts, Art Theory and Criticism
Chapman University Palm Desert, California (Sept 1997 – June1998)
California Teaching Credential, Professional Clear Multiple Subject and Single Subject English
McGill University Montreal, Quebec (Sep 1986-Aug 1991)
Bachelor of Arts, English Literature
Writing
Published essay in the art catalog, The Killing Machine and Other Stories
Master's thesis: "Intimacy in the Works of Janet Cardiff Including Collaborations with George Bures Miller"
"A Consideration of Sprawl in Art and Art-Writing" (An essay about the late artist Noah Purifoy)
"I Climbed Mount San Jacinto: Elevation 10,804" A post about hiking Mount San Jacinto from bottom to top in one day.
Languages
Fluent in French, Ability in Korean
Activities
Marine Corps Marathon (1991)
Death Valley Marathon (2005)
Spell-a-Thon, First Place Team, Morongo Basin Adult Literacy (1998 and 1999)
La Leche League Leader (1993-1995)
Advisor, Not-Back-to-School Camp (2001)
Download my CV here: Jeannie R Lee's curriculum vitae
UNPROFESSIONAL

My name is Jeannie R. Lee and I maintain womantalk.org from my home in south Orange County. If you are interested in a quick scan of my life, a good place to start is by checking out my "100 Things About Me" post.
The concept of womantalk started in 1993 when I was a new mother living in the desert with my artist/musician husband. Far away from my friends and family and living miles down a dirt road in Joshua Tree, I found myself wishing for more communication with my female friends.
My friend Sabina had told me about a German zine called auf dem Clou, which literally means "on the can." A small zine (from maga"zine"), women wrote in letters each month, one woman compiled them into a single publication, and mailed it back out to everybody. It was called auf dem Clou because these women felt that the only time they had to themselves was literally when they were locked in the bathroom, sitting on the can. It seemed silly that a group of mostly educated, reasonably liberated women had to fight so hard to carve out time for themselves, but it was also absolutely true. I was incredibly busy mothering my first baby and maintaining a household on under $1000/month – but at the same time I was craving female companionship and communication. There were things I could say to a woman, even a woman I didn't know, that I would have never bothered saying to my husband. I never saw an issue of auf dem Clou, but it became the inspiration for the first issue of WomanTalk.
The first issue of WomanTalk just consisted of three letters – I made fifty copies and sent them to every woman I knew. Within a year (or so), WomanTalk began paying for itself through annual subscriptions and each issue had letters from women around the globe. Most of the submissions were letters; very personal, revealing, and informal, although I also published poetry and short stories from time to time. I felt that the idea of anonymity was important so most women wrote in using aliases. I published WomanTalk monthly and then bi-monthly for seven years. For a very brief period in the early web days, WomanTalk even became womantalkmagazine.com until irreconcilable differences between me and the webmaster drove the project into a ditch.
In the meantime, I began substitute teaching to make ends meet. Very quickly, an elementary school principal recognized that my innate bossiness and inclination towards on-the-spot problem-solving made me an efficient classroom teacher. She offered me a full-time position teaching third grade. I accepted because I was sick and tired of being a poor hippie. By the end of that year, another principal called me (at home!) offering yet another position teaching 8th grade English. In order to keep the job, I was required to sign up for a teaching credential program. In the end, the program was so easy that I finished and got two teaching credentials: a Single Subject in English and a Multiple Subject K-9.
By 2000, I was divorced and tired of teaching middle school English. I was looking for a way to focus on my writing and my friend Rosetta Brooks convinced me that art writing was the way to go. She happened to be directing such a program at Art Center College of Design. Thrilled at the prospect of getting a master's degree surrounded by artists, I signed up full-time and suddenly I had cashed in my retirement savings to buy a new car and I was commuting 2-3 times a week to Pasadena.
Although I finished my course work in two years, finishing my thesis turned out to be an entirely different matter. In fact writing my thesis turned into the kind of task that brought out the monstrous procrastinator in me. To encourage myself to finish in a timely manner, I promised myself a trip to Asia if I finished by the summer of 2004. Confident that I would finish on time, I went ahead and bought the tickets in advance. I didn't finish, but Bella and I spent six weeks in Asia anyway, if only to buoy my flagging thesis energy.
By this time I had run out of money and gone back to teaching. It never occurred to me that being a single mother working full-time was going to make it difficult to concentrate on my thesis. I was too excited about having money to spend on new work clothes and shoes.
The following summer I made the same mistake again, this time resulting in a six-week trip to England and France. By the summer of 2006 I determined that I was not to be trusted with rewarding myself and just stayed home. It was somewhere during my frequent thesis breaks that my friend John introduced me to wordpress.com and I started blogging. I finally finished my thesis in the fall of 2006 and turned it in, at which point it was promptly rejected.
By fall of 2006, I was no longer teaching, but working for the district as an English Language Arts coach (working with the teachers, not the students) and still working on completing my master's thesis.
In 2007, everything in my life reached a head: I was published for the first time; I finished my thesis and got my master's degree; and the man I had been dating for the last five years proposed to me.
Summer came. I gave away all my teaching supplies for a second time, I got married, and then Bella and I moved to a gated community in Laguna Niguel after fifteen years of living on dirt roads in Joshua Tree.
Now. Now I am looking for work that is not teaching English to 150 13-year olds every day. I am looking for work that will build my writing and editing skills (and ultimately help me develop womantalk.org). I've been applying to jobs in the magazine world. It's not been easy making a career change, but I am slowly working out a game plan to begin some freelance writing building web content. I am also pursuing teaching composition and art history at local community colleges. In the meantime, I am enjoying the novel dilemma of maintaining a household on my husband's income and chauffeuring my teenager everywhere she needs to go during the course of her day.