Yes, I know summer is officially until the equinox, but when school starts, it really does feel like an end… this year I don't have a classroom to worry about and that takes a world of worry from my mind. We just rolled in from a weekend at the beach – a great weekend. My kid pretty much conquered her fear of the ocean and came way out with the "grownups" and put on goggles and flippers and cruised around, checking out the many shapes of silver fish off the California coast. It wasn't so long ago when she was a barely walking baby with curls and a tiger print bathing suit, crying at the shore, waiting for me to swim in.
I was very grouchy about my boyfriend moving to Laguna Niguel at first. It really reminded of isolated surburbia I grew up in Maryland and Virginia (and I didn't like him being so far away). But now I've come to appreciate having a "beach condo."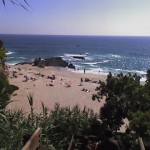 We can walk to Table Rock Beach from Chad's sister's house.
I also spent quite a bit of time in the car this weekend. I have to drive through Riverside and there is some crazy construction going on; expanses of overpasses that go on forever. I have watching (and suffering through) the construction for the last five years (my orthopedic surgeon is in Riverside), but it has only been in the last six months that the plan is really emerging. It is mind-boggling to see the amount of sheer manual labor, engineering (and wood and metal…) that goes into building a freeway overpass, especially ones this big. I don't think the pictures from my phone can do justice to the enormnity of the project, but that's what I had to work with.
The construction is hoped to alleviate the kinds of massive traffic jams at this interchange (60 meets the 91) that enabled me to take these photos.
I wish you could see how huge the concrete posts are! Â 
Scary to think about driving on top of that thing…
Look at the white car for scale comparison.