I've just joined yet another website. How many website and cyber handles can one person have? Wait, don't answer that; I really don't want to know.
This one, though, promises to be useful. It is an online community of readers who swap their books FOR FREE. It's called paperbackswap.com.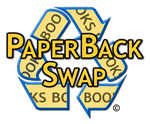 Basically, you sign up and start posting all the books you can bear to imagine living without. For the first ten books you post, you get two free starter credits. Since most books are worth one credit, this means that I can request two books right away, as I did today, to order Bella's summer reading for her Advanced Placement (AP) English Language and Composition class: Huck Finn and The Narrative Life of Frederick Douglass. Audiobooks are usually two credits.
The people who own those two books pay for the shipping to mail me those books. When somebody requests a book from me, I pay the shipping, which is supposed to be around $2.50 media mail.
Within minutes of posting my first ten books, somebody requested one of mine. Of course it was the one book I almost didn't post, but after looking at the inscription (yes, it was a gift – but 7 years ago and I still haven't cracked it open!), I decided I was alright to let it go. You can print postage paid sheets from the site if you have an account or you can just print the mailing form and mail the book yourself. Pretty straight-forward.
You can see the books I've posted so far here (I hope this link will work for nonmembers). Let me know if you want one and I'll probably send it to you instead.
Nifty idea. I'll see how it goes and tell you more when the books arrive.
I find that I'm kind of itching to go through my bookshelf and find more books to post. It's very satisfying to pass along a book to somebody who wants it (and presumably will read it…)