My old friends John and Joe are here – and I am really enjoying their visit.
My mom and dad went to medical school with their mom and dad and so we, the kids, have known each other our entire lives, and feel more like cousins than family friends. We vacationed with the Oh's several times a year for pretty much our entire childhood (which includes the infamous motorhome ride to see ALL the major national parks in the United States in fourteen days – all five of us kids slept together in the queen size bed over the cab and the four adults took round-the-clock shifts driving between famous landmarks).
I remember holding my knees and watching the water rise while taking baths with John.
And I remember Mrs. Oh's belly when she was pregnant with Joe.
It's not just that these guys are are easy to be around, but they have a similar sense of adventure, love of travel, and enjoyment of food and eating, as my family – plus they are both ultra-smart, so you can bounce any idea in the world off of them and get a great conversation going.
(And unbelievably, they are both still single! Line up ladies – what are you waiting for?!?)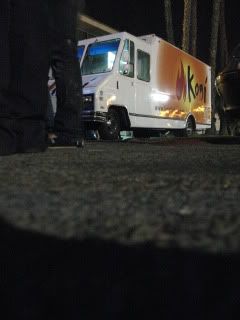 Last night John mentioned casually that they were going up to check out the LA Korean taco truck that has been making the news for the last year or so. (First saw a mention in the Wall Street Journal here, and then again in the OC Register here.)
This taco truck called Kogi – which means "meat" in Korean – was apparently making huge waves by serving up Korean BBQ and flavors in tacos and burritos. Even more fun, the truck's locations could only be found through Twitter, leading to many a merry rave-like scavenger hunt through downtown LA.
Recently, Chad and I heard they were making forays into Orange County, but then discovered that Kogi really caters to the after-party crowd, and that they wouldn't be in Irvine until after 10 pm on a given night. That's just too late for us these days.
But luckily not too late for John and Joe! Last night the Kogi truck was supposed to be in Long Beach, nearly an hour from here, so John and Joe drove up after we had all gone to bed. I got back up around 11:30 pm and then waited until 1:30 am for them to show up, and I was richly rewarded:
THOSE KOGI SHORT RIB BURRITOS KICK SOME SERIOUS BUTT.
And I got to hear a detailed account of the experience, which included nearly TWO HOURS of waiting in line. I guess there were almost 200 people in line! Mostly younger and Asian folk, and although the truck met in the parking lot of a club in Long Beach, the crowd was mostly people who were there just for the food. Everybody had been milling about in the parking lot, checking their tweets, and being good-natured (you know how good-natured us Koreans are) until the truck arrived. At which point the whole crowd began to shuffle, zombie-like, towards the front of the truck. The Kogi-master appeared and instructed the group to form a single-file line, which the group promptly did.
By both their accounts, it was a gratifying and worthwhile LA food experience. (They got the Bulgogi slider and a taco combo – which they loved.)
OMG – my mouth is watering just thinking about it. Luckily there are two more spicy pork burritos in the fridge waiting for me (and Chad). How much do I appreciate John and Joe? TONS!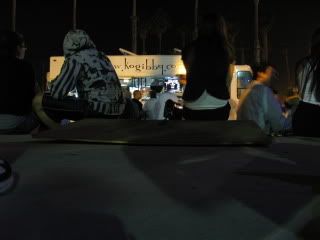 P.S. Tomorrow night (Sept 19, 2009), they are going to be in Irvine: 17221 Von Karmen Ave., Irvine, CA.