Just in case you thought I wasn't busy enough…
I've started a Foundations program, which is the first year of Waldorf teacher training – which is not to say that I want to be a Waldorf teacher – but rather I am interested in Waldorf school for grown-ups, which, essentially, this is.
We meet one weekend (Fri 7-9; Sat 8:30-3:30) and one Tuesday (7:30-9) a month for ten months. It's a two-year program and costs $2000/year.
On Tuesday nights we are studying Dante's Divine Comedy, which the 11th graders do every year. When we arrived to class last Tuesday, our teacher Robin Theiss, had this lovely chalk drawing up on the board to help us go through Purgatory.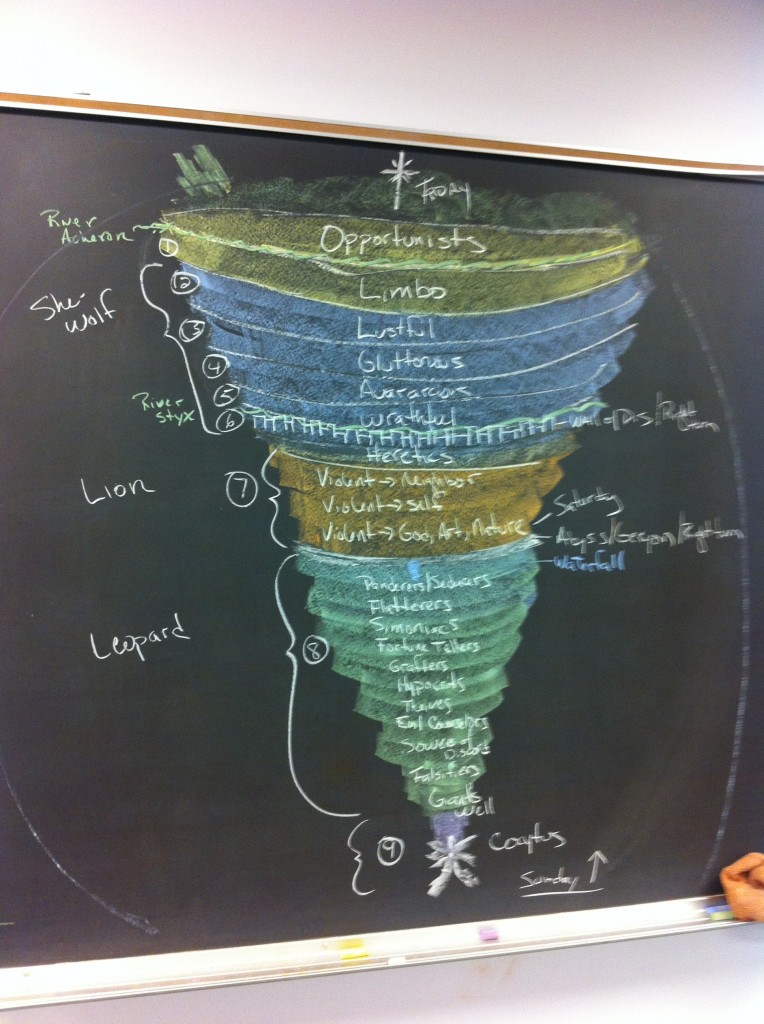 A typical weekend schedule starts with a Friday class discussion with 5th grade teacher Chris Bennett. We're reading The Kingdom of Childhood.
Then Saturday morning we meet with Robin Theiss again for an hour of Theosophy.  Next is Speech or Modeling; then Eurythmy (healing group movement); and then Handwork (clearly, my favorite). It's interesting to me that on Saturday only one-fourth of our time is spent on a book discussion-style class – the rest of the time we are learning (as the children do) through our bodies, voices, ears, and hands. All students stand and participate for Speech and Eurythmy, and it is surprisingly challenging to repeat simple movements and coordinating arms and legs. I am learning a lot just about the art of teaching by observing the teachers themselves, especially in Eurythmy where Curt builds simple movement upon simple movement until he has orchestrated quite a complex dance with all seventeen of us. This past weekend we had the additional treat of a piano player playing live in class. Pleasure!
Wait! I forgot to mention that we start each weekend with a half hour of singing. All standing and all singing a capella. THAT'S my favorite.
My friend, Darlene, reminded me that I SWORE I'D NEVER DO WALDORF TEACHER TRAINING. Oh well. Here's me eating my words and smiling while chain-stitching my felt ball in Handwork class.