We've just reached a tipping point. Bella suddenly wants me to knit, crochet, or otherwise make a whole pile of cute things for her – you know, before winter break is over.
She says she finds the Ravelry site overwhelming, but I don't believe her.
Last night, before going to sleep, I set her up with my computer opened to my Ravelry account on her bed. She browsed while watching the current episode of Vampire Diaries on her own computer. Yup, she was huddled in bed with two laptops and her phone near by – that's the contemporary collegiate condition.
This morning, there was an email from her with six links: two versions of each thing she wants made (headband, leg warmers, cowl).This pic above was the original headband Bella wanted that my friend Christy made for her (see it at on her Pinterest board). This link takes you to Elisa McLaughlin's craftsnob.com website with very easy and clear  (free) directions.
Bella now wants a thinner one in a maroon Brown Sheep worsted yarn I have, called Roasted Coffee – and she found a different pattern too, Knotted Headband. This pattern is crocheted, looks even easier, and is also free at allaboutami.tumblr.com. It's amazing – you can find free directions for just about anything. This particular project will go into Bella's stocking. I'll get started after I've sent a package of four felted slippers to my sister's family in Melbourne; a hat and slipper socks to my brother and his new wife; and more felted slippers to my parents. Yeah, that's all supposed to happen this week. ALMOST THERE.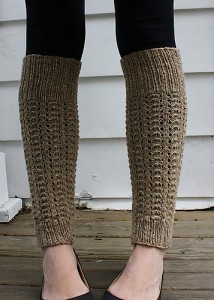 The pair on the left are called Long Walks by Dani Sunshine and are available as a free download on Ravelry if you have an account. The pair on the right (Stirrup Leg Warmers) ended up being the winners though, without the stirrup part. I'll do those in another maroon worsted wool. This link takes you to lizzylikescake.wordpress.com blog.
This pretty cowl (A Grey Loop from pumpinbellebitsandknits.blogspot.com) was knit by a mom for her daughter. Aww.
Bella noted that the girl in the pic is wearing an anchor shirt – maybe she's a Delta Gamma! But unfortunately that light lacey look doesn't work for the yarn she was eyeing in my stash, which is a bulky green. This is still Bella's top pick – so maybe I have to shop for more wool. : )
The winning cowl, or infinity scarf, ended up being The Stockholm Scarf. The free pattern is from a blog called Knitted Bliss and it's full of cabled coziness.
I might have to make one for myself when this holiday knitting madness passes. How warm does that look?!
Better go make a cup of tea and get my holiday gifts finished, because my fingers are itching for one of these new projects. (Just hard to get revved up on herbal tea. :/)