Last time I was in Asia (three years ago), Bella and I got to see lots of contemporary art in Seoul and Tokyo, but consistently got lost trying to find galleries in Bangkok. This time I was armed with a Time Out Bangkok, Nancy Chandler's map, and a local. Two of the larger, more established galleries were closed for April (100 Tonson Gallery and H Gallery). I think perhaps that this is a down time for the local art scene, being the hot-almost-rainy-season, but we were able to find a few galleries open nonetheless.
We first visited the Surapon Gallery in the Tisco Tower: all Thai work, painting and some sculptures. The work that interested me most, however, was in the lobby outside (but under the gallery direction) in the main building. There were no labels identifying the work or artist, but somebody at the gallery promised to email me the artist's name soon [the artist is Piumchan Buntrai]. All I know is that she is a recent MFA graduate from Silpakorn University, one of the most prestigious art schools in Bangkok and the work was from her master's show.
I liked the work because my mind kept flicking back and forth between different perceptions – like the vase that becomes two profiles – except that it was not the visual image changing, but the mood. The first work we saw looked like a bronze of a mother swinging her child into the air. The child looked so happy, with uplifted pigtails and pointed toes. Then I noticed the mother's strange bowling pin head and the fact that the little girl seemed to be sucking on the mother's third breast. I kept walking by, a little perturbed and curious.
The next work clarified things a bit, because it was so clearly two boys blowing up balloons. But not two regular boys, but boys from some happy balloon world, putting all their concentration and balance into blowing these two balloons up.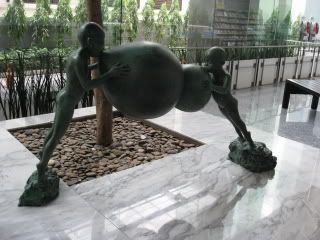 Then I could go back and see that in the first sculpture the child was actually blowing her balloon mother into shape. The static, semi-formed mother does not have her head, but she is able to hold her daughter up in the air. The child is blowing life into the life-giver; she is sustaining the woman who sustains her. The sculpture didn't appear so creepy anymore, but poetic — and my mind keeps returning to the strength and stability of the headless mother's arms – and how joyful the little girl is as her mother gains full figure. Still, it is strange image and not entirely explained – and it makes me wonder what person or object the two boys are blowing up?
I like too, that the works are done in pretend-bronze, which gives them authority and presence in this office building foyer. Thai artists seem to do that a lot to get attention; use materials and content reflecting traditional art to try and insert themselves into an art-historical context. At another gallery, Tang Gallery, we saw a group show of self-portraits. At least a good half of the paintings represented the artist as a guru or spiritual leader – not surprising since so much of the art work here is related to depicting and revering Buddha.
Both Tang Gallery and Thavibu Gallery were located in an upscale, but practically empty mall called Silom Galleria. Clearly the way to market and sell contemporary art is not through posh, elitist galleries, but through posh, elitist parties, like I have been hearing described. The Bed Supperclub has splashy art openings which include dinner in bed, and being served by waiters who have the menu printed on their bodies.