And if I could be bothered to post the hundreds of photos we took downtown I could prove it to you. The only real interest Bella and Dawkins have in the national monuments is how good can Bella and Dawkins look in front of the national monuments? Neither of them would have even wanted to spend the day in D.C. had it not been for Chad's brother's treasure hunt (both would have preferred swimming and texting friends while sunbathing, I think).
This is glum Bella on the White House, "I thought it would be way cooler. This is just like a museum."
Security around the White House has tightened up considerably since my childhood, and now the only ways to get tickets for a tour is to write your state representative months in advance or know somebody on the "inside."
We were lucky enough to know somebody who knows somebody who works at the white house and we were able to get three tickets for an "unescorted" tour (that just meant we walked through on our own, like pretty much everybody else). I enjoyed walking through the East Wing and examining all the international gifts, examples of different services from different administrations, and the beautifully kept authentic furniture. We were not allowed to bring in cell phones and cameras – so we don't have any pictures to show, but you can see the rooms we visited at the official White House web site here.
Besides sneaking in a trip to the Holocaust Museum (with a promise that it was the only museum we would visit that day), we spent the rest of our day trekking across the mall, taking pictures for Chad's brother's treasure hunt.
"Pictures must be exactly as I specify or they won't count. Each item is worth $1. If you get them all thats $5 each.
Dawkins-
1) Picture of Dawkins at the US Grant memorial (its in front of the Capital) The girls really, really didn't want to walk to the Capitol building from the Washington Monument, (granted, it was very hot), and then I read somewhere that the Grant Memorial was in front of Union Station – so we drove there, only to discover that the statue in front of Union Station is of Christopher Columbus…see picture #3.

2) Picture of Dawkins wearing 1 shoe in front of the Lincoln memorial

3) Picture of a bird sitting on any recognizable/famous Washington memorial
Not only is there a statue of a bird on top, but there are also many pigeons on top as well – you can just make out the outline of one on the left corner of the square pillar.
Bella-
1) Picture of Bella giving a thumbs up in front of the Lincoln statue at the Lincoln memorial

2) Picture of Bella jumping with the Washington monument in the background

3) Picture of something related to the civil war (excluding the Lincoln or US Grant memorials)
I posted a picture of this one previously, so here's a close up of the plaque in front.
Both Bella and Dawkins
1) Picture of both giving the "tiger 5" in front of a picture, sculpture or statue of a tiger (a lion is acceptable)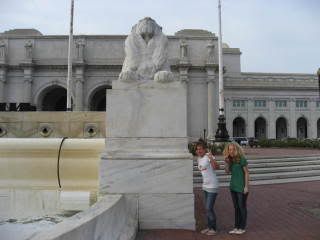 This is front of Union Station.
There was more than one opportunity for "tiger 5's."
The tiger sculptures are the work of my friend Lisa Shumaier at the Torpedo Factory (taken on a different day.)
2) Picture of both of you with Songbae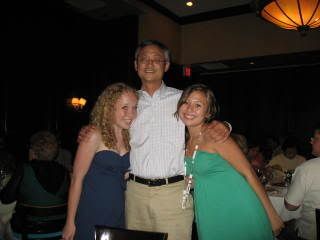 Songbae blasted in from San Fransisco for a 24-hour visit, just for my dad's retirement party.
Bonus: (1 for Dawkins and 1 for Bella)
1) Picture of any memorial/building/street with the name Madison or Jefferson
This was in old town Alexandria too, but we later discovered that the two streets that run along the reflecting pool are also Madison and Jefferson. Tired of smiling, are we Bella?
2) Picture of either or both standing in front of Fords theatre or the Smithsonian"
I wanted to take them to Ford's Theater, but Bella was terrified that there might be a gun shot in the Lincoln assassination re-actment, and besides, turned out it was closed for renovation. I've always like the Smithson castle anyway.
And here's a last one in front of James Smithson's crypt, which is just inside the foyer of the castle.
All I can say, is that it looks like it was more fun than it really was. I mean, I enjoyed my day, but I sure put up with a lot of moaning and groaning from those two girls.