The Wedding Weekend Itinerary
22 June 2007: Private wedding ceremony (attended by family only) in Joshua Tree National Park followed by dinner at the Murdy residence, 6 pm- 9 pm.
23 June 2007: Wedding reception at Indian Cove in Joshua Tree National Park, 5 pm- 10pm.
24 June 2007: Light brunch at Jeannie's house, 10am – 2pm.
Accommodations
Group campsites 3 and 4 at Indian Cove, Joshua Tree National Park have been reserved for June 22-23, 2007. These sites can collectively accommodate 80 people. If you plan to camp, bring ample water for each person camping.
If you would like the classic desert getaway experience, you can stay at the 29 Palms Inn. This inn is famous for hosting movie stars from Los Angeles. Some advantages to staying at the Inn: a great little restaurant, a pool, and complimentary breakfast. The Inn is relatively near Indian Cove campground (where the reception will be), but about a half hour drive from my house.
There are no wedding discounts offered, but all rates drop after June 17 for the summer.
In Joshua Tree proper, you can also stay at a variety of motels and cabin rentals. I recommend Spin and Margie's Desert Hideaway. They have five cabins available for two to six people each. All the cabins have a kitchen.
There is a two-night minimum stay requirement, but they have offered a 20% discount on the rooms if you mention that you are attending my wedding.
Suite #1 ($160.00) would be $128.00
Suite #2 ($125.00) would be $100.00
Suite #3 and #5 ($135.00) would be $108.00
and
Suite #4 ($145.00) would be $116.00
They are located off Highway 62, just east of the main part of Joshua Tree.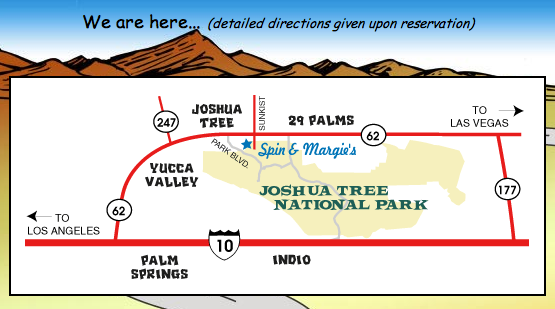 Travel
The closest airport is Palm Springs Airport (PSP).
The next closest airport is Ontario (ONT). Flights to Ontario are often as cheap as flying to LAX, and it is only a half hour longer drive than flying into Palm Springs. Ontario is located approximately halfway between LAX and Joshua Tree on the 10 Freeway.
Weather
Desert weather is extremely variable, but expect it to be hot and dry. For current weather forecasts check cnn.com here.
Attire
Casual – remember both the wedding ceremony and reception will be in Joshua Tree National Park, so wear appropriate footwear. You won't be able to resist a little explore on the rocks! (Myself, I'll start by wearing a dress and then change into more comfortable clothing later.)
*We are registered at Crate and Barrel.