Despite that I thought I was coming during peak season here in Thailand, which is winter time, and not supposed to be as hot – it is very, very hot. In fact, I have been in the pool five times in the last 24 hours. Whew. I feel very, very pregnant too.
But Nabi Grace makes me grin! Here she is on my lap in the taxi going home from the airport yesterday.
And here's the family walking to a restaurant for dinner. We ate at Reflections, which is an excellent restaurant owned by an artist friend of ours named Nong. The "rat na," fried noodles with fish and gravy is especially good there.
My favorite dish of the meal was an appetizer that consisted of wrapping toasted coconut, deep-fried shrimpies, roasted peanuts, finely minced garlic, onion, lime and peppers in a leaf of some sort. The whole thing was smothered in a thick sweet sauce. The result was a fresh, zingy snack that I could not get enough of. I was really surprised that enough little crunchy things wrapped in a leaf could be so satisfyingly delicious.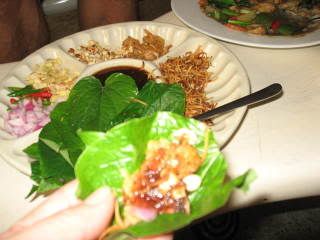 Here is a pic of Nabi Grace entertaining herself by examining every aspect of the dining porch while we were eating. I'd like to see her do Bikram – she has incredible flexibility!