Well, when Chad and I set up our San Fran itinerary last week in Laguna, I never imagined that we would be following it this closely. But I'd forgotten that Chad is happiest when things go according to plan.
Yesterday we made it to Golden Gate Park and the de Young. The weather is still gorgeous and so the visibility from the observation floor of the de Young impressed even the girls. The permanent collection there is strange and uneven with artifacts from Africa, Meso-America etc, and then a new exhibition of Gilbert and George, a performance art duo??
The same-day ticket is also good for the Legion of Honor. So, afterwards we made our way along the west coast (past the Cliff House and Sutro bathhouse remains) to the Legion of Honor.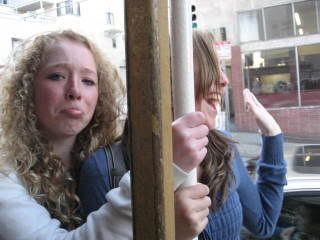 Of course we rode as many street cars as possible as well. The girls never tire of holding on the poles – and now they are trying to high-five the passengers on the oncoming passing cable cars.
Just heading to UC Berkeley for a free campus tour…