Now I remember the problem with having a day job; you always end up coming home too tired to do anything else. I walked in my house and I felt restless and keyed up from school, this, despite the fact that I had skipped my iced earl grey this morning. I don't waste caffeine on non-writing days. I pay too high a price for caffeine (yellower teeth and stronger body odor).
So I ended up doing another round of Bikram yoga. Afterall Bikram recommends that beginners do the 90-minute course every day faithfully for two months to learn the routine. He also says, Don't be sad. Don't be lonely. I am not your enemy. I am your friend. I am the only friend you have.
It did the trick. So did eating another one of those delicious Swiss Rice Burgers with okra on the side. Did I mention that these burgers are made with brown rice, cashews, sunflower seeds and lots of swiss cheese? Maya also packaged them in aluminum two-packs for freezer storage ease. I have had one a day ever since we made them. I love them.
She also turned me on to another cooker's tool, the magazine Cook's Illustrated. Pretty smart little publication. Each issue tackles a dozen or so recipes and figures out all the common problems or mistakes and comes up with (self-described) "forehead-slapping" perfect recipe. I have been reading the issue she loaned me from cover to cover (Sept-Oct 04) and I now know how to make perfect Lasagna Bolognese, juicy baked chicken breasts (and how to properly buy and cut a whole chicken), and Pineapple-upside down Cake, just to name a few. This issue also ranks tomato pastes, tomato sauces, and hand blenders. For my next crazy cookathon, I'd like to invite Maya to come make The Ultimate Sticky Buns with me.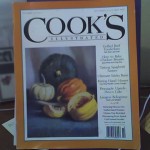 fyi, lah, there is an article comparing 13 wine openers on the website.