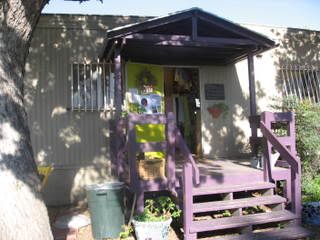 After dropping in on the Waldorf School of Orange County's school store (called The Company of Angels) a few weeks ago, I was so smitten that I immediately went home and organized a meetup there. And since just meeting in just a single store, even a Waldorf store, is a slim excuse to get friends to drive 30 minutes, I tacked on a nature walk in the adjacent Fairview Park as well.
After several days of cold rain, we finally got a beautiful crisp day – perfect for a walk. In weather terms, it felt like a fall day on the east coast.
As per usual, we had great conversation with the four moms (and six kids) who came. And we all enjoyed the heck out of the school store, which is filled, not only with wooden and natural toys, but many one-of-a-kind items. I love how the Waldorf philosophy promotes imagination and values a single lovely handmade object over many mass-produced (plastic) toys. We all agreed too, that a Waldorf atmosphere with all its practical manifestations: handmade dolls, plant-dyed silks, wooden kitchen sets, child-sized brooms and shovels, is more winning than the Waldorf "talk" which can get quite esoteric and spiritual.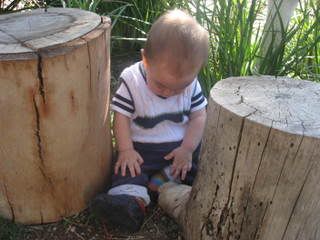 Christian loved the tree stumps and dirt out front. Wish we had some! (Stumps I mean…)
And I found my next project. Is that doll not SO SWEET?! I think it might be more appropriate for a youngun' like Christian, than the more detailed doll I made for his niece. (Laura, you'll have to tell me what kind of doll you think Flann will like best for his first doll.)
I am also considering making a "heavy baby." As I learned from my niece, Noi naa, there really are kids who like to LUG. The heavy babies, like the ones here, are 4 1/2 pounds each. The weight is supposedly very reassuring to some children.