Um, it's a little embarrassing that it's taken me this long to talk about art, especially since that is ostensibly what I am studying for my master's degree. (What is it about grad school that makes me want to use the word "ostensibly" so much?) There is an art writing contest and I thought, hey, why not procrastinate my thesis a little longer and spend some time trying to write 700 words about some recent art event.
I had almost dropped the idea as impractical (Besides trying to finish my thesis, I bought my first house and I'm moving in a month) when I saw that the hi-desert test sites were going on this weekend. Well, hold de door. Not only is this a "city" art event (i.e. counts for real art), but it is relatively new (in its third year – artforum covered it last year), but it happening on my home turf, so I actually know what's going on from an insider's perspective. (OMG -did I just call myself an "insider"?? of Joshua Tree???? somebody please stop me…)
And it has been getting altogether unreasonably hot here. Nevertheless, I took the fortunate coincidence as a signal that I should definitely, yes, write about the hi-desert test sites. Basically it is a loose conglomeration of L.A. and N.Y.C. artists and hardy hiker friends having a bohemian artsy time of it for the weekend. Originally organized as more of a guerilla anti-art event, by quickly becoming local, Andrea Zittel and up-and-coming Chelsea gallerist John Connolly, there are projects, of varying degrees of sophistication all over the hi-desert for the weekend. There is usually a bit of alcohol, lots of sandy shoes, sun burnt and reddened faces and a prevailing sense of adventure and camaderie; after all we all love art so much, we've driven to this forsaken place where they probably drop off dead bodies.
Well, I went in with a mind to rip and savage this snotty art thing that had come to trample around in the desert and I came away with more of a thoughtful mind than I had anticipated. (hmm, perhaps this is why art is so important?) First of all, there was a lot going on at all different times and at locations, while all in the supposed "hi-desert" ranged from far away to practically halfway to the salt dunes, so the dull and overdone (free clay being passed out by semi-drunk artists) were outweighed by the surprise discoveries (Andrea Zittel's new concrete courtyard, her custom-built travel pods and the guerilla ice cream truck.)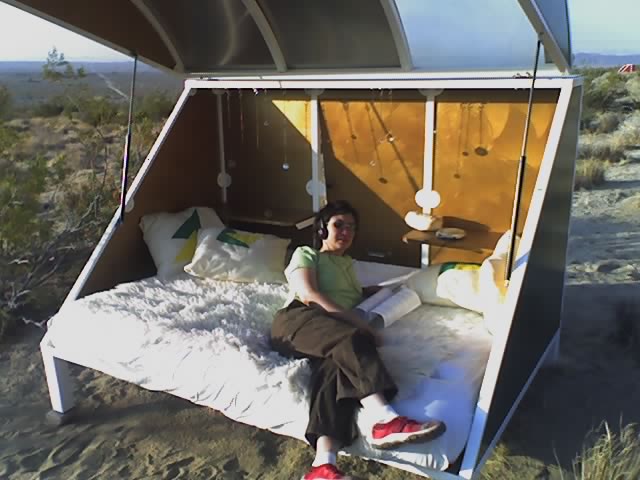 I finally understood the "test" part of the test sites. This a practice ground, where the living is cheap, space is ample and local understanding or even, interest is not necessary for it to be useful as an art event. Mr. free clay brought only 1 1/2 tons of clay for this "rehearsal," to burning man he will surely bring four tons.
The Integratron is cool, and I think that Laughing Yoga (sounds related to la vache qui rit) is a noble project. The public telephone in the middle of the desert fell flat because most of the people trying to make call on it had long-distance area codes and couldn't get through. I called home and was astonished that it worked. (Later, I noticed that Andrea Zittel's home phone number was now imprinted my phone's caller id memory.)
It is admirable that from a previously transplanted art culture, this year's schedule included a number of local wonders and curiosities: God's way, Love; the dry lake bed, Garth's teepee, abandoned claim cabins, Noah Purifoy's environmental sculpture; the Integratron and Jus' Motter's dilapidated dome. It is telling that the newer projects were little match for the homegrown eccentricity of projects born and grown under the unrelenting Joshua tree sun. On the other hand, it takes practice to get good; it takes lots of mistakes to find the right way, so hi-desert test sites should be applauded for making room to fall down.