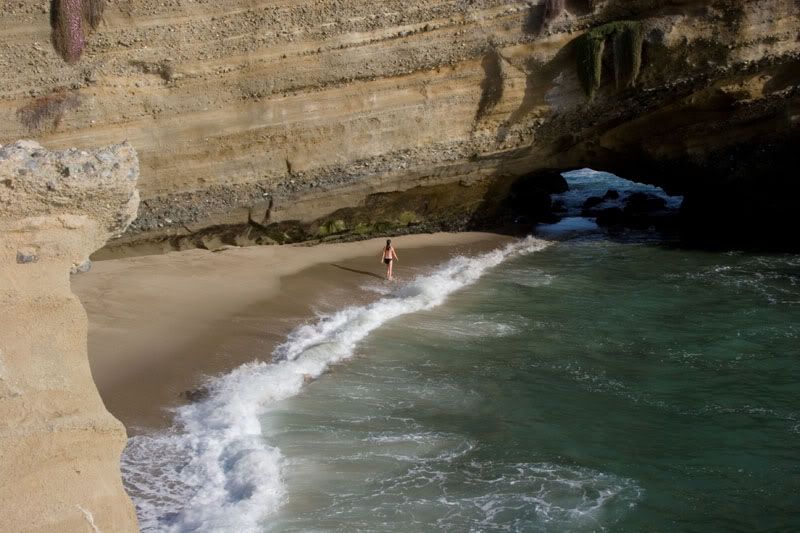 Swimming in the ocean, hiking, being with my family, talking with friends, eating yummy food, birthdays…
I turn 41 tomorrow and I've been feeling very showered with gifts. Chad got me my camera last month (Canon 10 mpixel elph – and yes, it's been replaced), Songbae's gifts are in the mail, I'm posting from my brand-new macbook (Thanks Sue!), we've been hiking in the Caspar's Wilderness (thanks for the park pass John!), we've been eating from my lime green new stainless steel lunch canteen (thanks Sierra!), and then last night I got a bag of sweet goodies from my old pal Caryn: organic face lotion, an brightly colored apron, and a cookbook from Provence.
It feels good to be reveling in my favorite things this weekend, especially after spending so much time and energy celebrating Christian's first birthday. I realized last year when I turned forty that the focus that I had returned to myself as Bella grew up needed to directed back at my new baby. I had gotten in the habit of throwing a bit of a shindig every year in the National Park (Joshua Tree) with Korean BBQ during my thirties and had always planned to celebrate my fortieth with a big bash, but instead my fortieth passed by hardly noticed (by me), right on the heels of Christian's birth.
This year we served Korean BBQ at Christian's birthday and we'll camp at Lost Horse just for a family holiday in a few weeks. I'm doing all the same things but with a different intent. It's a good balance.