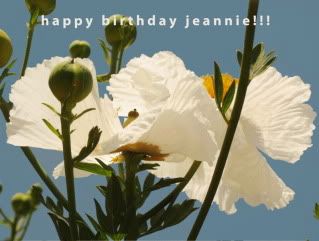 I had one of my nicest birthdays ever yesterday. I feel great about my family and friends at this stage of my life; I have a wonderfully supportive and loving husband; a darling chuckling baby;Â  my friends are among the most creative, smartest, and most interesting people I've known; and even my teenaged Bella was nothing but sweet to me all weekend long. She gave me a coupon for free car washes for the whole summer! (Besides the fact that she hiked with us on my birthday and helped out on Christian's birthday.)
The night before my birthday Bella and I stayed up late watching movies (Flashdance and Twilight), which put us at a late wake-up the next day. Still, we all managed to get out of the house before lunch (Chad had wanted to get out of the house by 7 am – oops) and to the trailhead of Holy Jim by 10:30 am.
There were hordes of people on the trail, but that didn't diminish my pleasure of the green woodsy trail and the burbling little creeks we kept crossing. And as people go,  I find that the ones who get outside to hike on their day off are the ones I'd want to bump into anyhow – everybody was ridiculously cheerful and upbeat all day long.
Afterwards, we headed home to shower and and clean up before going for Korean food in Irvine (Korea House). Yummmm. As per usual, I ordered too much food, but Chad and Bella seemed to have a special appreciation for Korean food yesterday, so nobody complained.
We had Bulgogi (BBQ), Daengchang Chigae (fermented bean paste soup), Haemul Pa Jun (seafood and scallions pancake), and Chap Chae (vermicilli rice noodles with veggies). And of course all the ban chan (side dishes) that accompanies the standard Korean meal. It was all excellent.
They served watermelon for dessert, but it wasn't enough… we stopped by Powell's Sweet Shoppe (gummi candy heaven) for some gelato and fifteen minutes of the original Charlie and Chocolate Factory at the back of the store, where they had a mini-movie theatre set up.
Throughout all, I fielded phone calls, emails, and texts from friends old and new. You guys are terrific! I felt thoroughly loved and appreciated.
P.S. The lovely card at the top was photographed and designed by Ellen Steel.