I went to a lovely baby shower this weekend, and Chad got to spend his first solid two hours alone with the dude walking about old town San Juan Capistrano.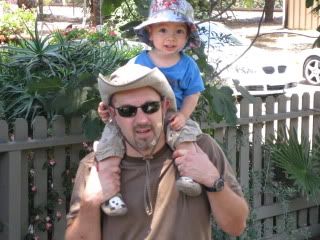 The shower was held at a tea house, called The Tea House on Los Rios. It was just my kind of baby shower, with just two games played (I won a teapot for one!) and good company – fueled of course by lots and lots of black tea and scones with homemade clotted cream and preserves. (Okay, the finger sandwiches weren't as good as the tea at the Huntington Gardens, but the scones and desserts were great.)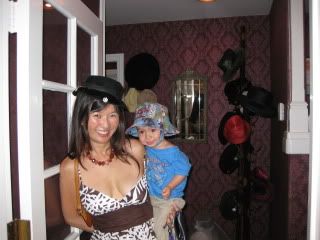 My dilemma was that now that I've had a baby shower thrown for me, I've experienced first hand how generous people tend to be at these affairs, besides which, I really like the woman for whom the shower was being thrown and I was being fed a pretty nice lunch. I wanted to get her a thoughtful big-ish gift, but our gift budget is, well, pretty much nil at the moment.
So at the risk of appearing like a cheapskate, I made all my gifts by hand.
Luckily I had my s-i-l's serger at my disposal. I made a receiving blanket (bamboo velour and flannel), two softies (bamboo velour and two kinds of flannel), two wash cloths (bamboo fleece and flannel), and then a knit horse (out of cotton yarn and stuffed with the scraps from the previously named gifts).
They were a hit! I felt especially good about how the horse came out. And Christian got so attached to that horse (in the short time he lived fully constructed in our home – 1/2 hour??), that I realized that I'm going to have to quickly get started on another one.
The directions for the horse came from Bonnie Gosse and Jill Allerton's A First Book of Knitting for Children. I recommend you get the book – but I will post general directions for this horse shortly and then I'll post a link to those directions here.
(If you want to get started, cast on 10 stitches and knit 28 rows. Cut the yarn, leaving a hands length. Leaving the first leg on the needle, repeat for the second leg – when you get to the 28 row, cast on 10 more and then knit across the first leg…)
I think Christian needs at least two.