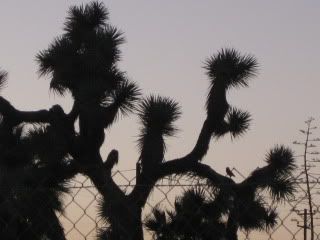 I wish I were going to say, "Joshua Trees and burrowing owls"
but
I'm going to have to go with SWAMP COOLERS AND HULA HOES.
Two things I never think about until I'm here
and hula hoe-ing the whole damn back yard. Morning and night. For a variation, I break it up with pruning rose bushes and rosemary. Many stingy spots on my legs tonight.
I can't complain though,
my in-laws are treating me very very well;
Christian loves all the shovels he's found on his grandparents property (are all grandchildren and grandparents so well-matched, I wonder? He thinks he's in heaven-his ganma and gampy like to play in the dirt.);
we hop in and out of the pool all day;
the outdoor shower is heaven;
my JT friends are awesome;
and we see the burrowing owls (3 babies!) at least twice a day.
Hope to be home by Thursday, because that's when my SISTER AND HER FAMILY ARRIVE FROM BANGKOK.