Dear darling Christian,
While some people bemoaned the rainy weather that we've had, you, well, you completely reveled in the rain. Your dad was on vacation the whole month of December and we dragged him along on lots of puddle walks.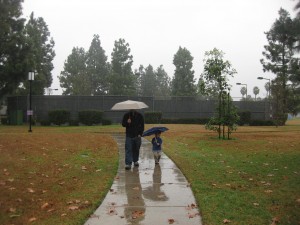 Because of your dad's vacation time, we also got some good camping time in. Luckily, it all happened just before the rains poured down. In fact, the weather was absolutely stunning in Joshua Tree mid-December. We camped for two nights and were visited by many people who love you, including your gramma and grampy. We even made it out to Joshua Tree a second time to see blissfully engaged Nathen and Reanna while they were in town. That, plus my parents' visit for a week, meant LOTS of family time this holiday season.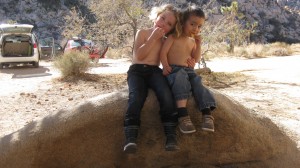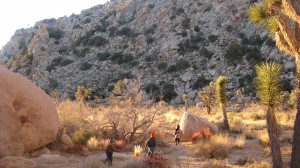 I really thought the construction vehicle and skateboard stage was going to last a lot longer. I was settling in for the long haul. But instead, you've moved over into that boy-thing of loving guns, swords, and light sabers. You love building and playing with the train set Santa brought you, but you love it even more when you take it apart and make every piece of train track A GUN, so you have a big huge stack of guns.
You have really developed a terrific relationship with your dad. It's so sweet to see you guys loving on each other! You enjoy his company so much that I was even able to take an early childhood Waldorf workshop this weekend – four hours Friday night and seven hours on Saturday – you hardly noticed I was gone. Instead, you were thrilled that Bella was going to read and play with you until Dad came home from work.
I'm still thoroughly enjoying your language development and increasing understanding of the world. Today in the car, you suddenly demanded, "Where we going?" When I told you we were going to Ted's Place for breakfast, you asked, "Does he have toys though?"
I said, "It's a restaurant. I don't think so."
He continued, "Does he have toys though? Does he have Buzz Lightyear? I think so."
I let the subject drop, but guess what? Ted's Place DID have toys (via 50 cent gumball machines) and there WAS Buzz Lightyear. And it's been months since we've been to that place!
You crack me me up dude!
I love you,
Mama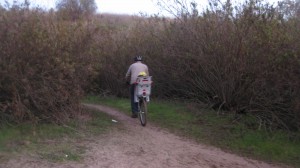 P.S. On one of many bike adventures down to the creek bed to harvest mule fat wood for fire kits.