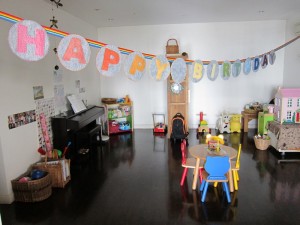 Here we go with another winter cycle of Playgroup in the Woods. (I'm resisting the temptation to continue calling it Waldorf in the Woods, because I'm not actually a trained Waldorf teacher.)
The story will be a simplified version of the Grimm's fairy tale Star Money. (I can't wait for next winter to do The Mitten! There was a sweet how-to article in the last Living Craft magazine for making the mitten out of felt and all the animals out of wood.)
The craft will be a felt birthday banner.
The winter cycle songs are as follows:
Follow, follow me
To the ring of the fairies
Follow, follow me,
Where the fairies dance and sing.
Gather with you now
All the magic you can carry,
As we circle 'round the dancing fairy ring.
Now look around
We've made a ring
By holding hands you see.
Yes, here I am,
And there you are,
Together we are we.
1. Winter's Mood by Betty Jones
All outside is dark and cold
But just beneath the earth
Sleep seeds from which new life springs
Bringing Nature's gifts to birth.
2. Snowflakes
Oh- Where do you come from you little flakes of snow,
Oh- falling softly falling on the earth below.
On the trees and on the bushes
On the mountains so far
Oh- snowflakes do you come from where the angels are?

3. Finger Plays For Winter Fairies (by Mrs M of http://www.shiningstarschool.com/)
What do I see under the moonlight
Why it is winter fairies in the winter night..
How many are there? Let me count!
One (finger up) for the Frost Fairy freezing the dew
Two (fingers up) for the Wee Blue Fairy, oh so cute
Three (fingers up) for the Mossy Elf, wrapped in wool
Four (fingers up) for Snowflake who never gets cold
Five (fingers up) for Brother Wind who blows and blows (put five fingers up to face and blow thru….)
One fairy runs away, two fairies fly (one finger runs, other hand shows 2 fairies flying)
And all the others….say good bye! (wave hands then open and shut goodbye)
4. Wintertime by Betty Jones
Oh, hear the winds call             Raise hand to mouth and sound out "woo"
Listen to the nuts fall          Snap fingers
See the squirrel gather its food,
Flutter fingers and reach forward to gather
To bed goes the bear,           Lumber around the circle
All the creatures prepare         Stop, hold hands, and sit down
For the wintertime mood.         While holding hands, raise hands
Soft snow falls at night           Flutter fingers to floor
Covering the earth crystal-white
Spread fingers outward away from body
While all are snug in bed,         Sleeping gesture, eyes closed
But with the sunrise                Eyes closed, sweep arms upwards
Children open their eyes          Open eyes, fingertips meet above
To play in the snow instead!      Stand together, rub hands together
The air is so clear                       Stretch upwards, deep breath, exhale
Wrapped in warm winter gear,    Pretend to dress
Out to the snow we go!              Pretend to trudge in circle
Jack Frost bites the nose           Stop, and pinch nose
And soon freezes our toes!  Bend down, rub toes
Now starts this wintertime show!
Stand and turn around in place; extend arms outward from sides in gesture of gratitude.
5. Two Little Hands (Do all the actions in the verse)
Two little hands go clap, clap, clap.
Two little feet go tap, tap, tap.
Two little hands go thump, thump, thump.
Two little feet go jump, jump, jump.
One little body turns round and round.
One little body sits quietly down.
6. Dot, dot, dot
And a big question mark.
Little spiders crawl up your back
Little spiders crawl down your back
Little spiders crawl up your arms
Little spiders crawl down your arms
Cool breeze, tight squeeze.
Egg on the head and the yolk drips down.
Creepy crawlies, creepy crawlies…
Gotcha.
The Story Song
Anything can happen
In a fairy tale or rhyme
When you say the magic words
Once a upon a time
Handwashing Song (sung in the mood of the 5th)
Time to wash our hands,
Time to wash our hands
Welcome, welcome
Welcome to our table
Welcome, welcome
We all join hands together. (We sing this until every one is at the table)
Snack Time Blessing
Earth who gives to us this food.
Sun who makes it ripe and good.
Sun above and earth below,
Our loving thanks to you we show.
Blessings on our meal.
Goodbye Circle
Who will come to my wee ring?
My wee ring
My wee ring
Who will come to my wee ring?
And make it a little bit bigger?
The earth stands firm beneath my feet. The sun shines high above. Here I stand, so straight and strong – all things to know and love
I can turn myself and turn myself and stop me when I will. I can reach high on my tippy toes and hold myself quite still.
The Goodbye Song (REVISED to reflect lyrics and tune from A Child's Seasonal Treasury)
Goodbye now, good-bye now, we leave you now and home we go.
Good bye now, good bye now. Good bye to all of you.
It's time to go or we'll be late.
Let the children lead us to the gate.
Good bye now, good bye now, we'll see you soon again.
Rainbow Bridge Song
Goodbye, goodbye
Blessing on your way.
May the sun shine bright
In your hearts today.