Last weekend, I squeezed in an extra big dose of autumn fun.
First, I took Christian to Oak Glen to get a bushel of delicious fresh-picked Jonagold apples and to pick a pumpkin from a patch. I love getting a pumpkin from a real pumpkin patch. Christian loved it too and ran from one perfect beautiful pumpkin to the next, until he found one with a scar on it. A scar like Christian has, and Darth Vader, and Harry Potter. His Aunt Corrina joined us for the day and willingly played "star wars" by ducking around giant old oaks, chestnuts, and cedars and aiming pretend guns (sticks) at the enemies.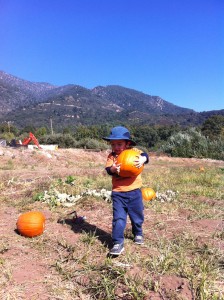 Then, we drove to Ganma and Ganpy's house in Joshua Tree. The next morning was "Apple Days" at Darlene's house, which was several hours of singing, story-telling, and apple turnover-making. YUM.
Directly from Apple Days, we went to Joshua Tree National Park to meet some friends who were camping. We ended up staying to hike the 2-mile Split Rock trail and having a delicious BBQ chicken dinner. We saw our first wild tarantula of the season.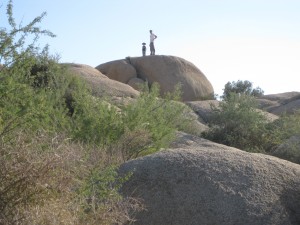 Saturday was Open Studios Tour and then the Zircon Wish Circus at night! Corrina stitched all my little videos of the circus into one longer one – the circus was next-door to Ganma and Gampy's house, so we could walk right over.

The next morning I rolled out of bed to drive down to San Bernardino to pick up Chad – he'd taken the opportunity to bike 73 miles.
On the way home we stopped to do a Trader Joe's shop in Irvine. Dinner was at the famous Berkely Dog (fancy hot dogs) and dessert was pumpkin pie-flavored Yogurtland.
Yup. That was one busy weekend. Lots of calories too.