My new idea: Have a house-warming party and give everybody who comes a box marked "misc." OR "books-unsorted." My empty boxes almost reach the ceiling – and the crazier thing is that I have been bringing empty boxes to the old house and refilling them – over and over again.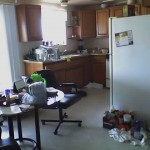 I've cooked a couple meals in this kitchen so far. I'm pretty excited about the heavy-duty metal pull-out shelves I still need to install for my pots and pans.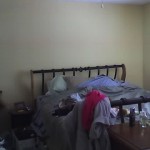 The king-size fits and the sliding closet doors are mirrored. I have my own bathroom!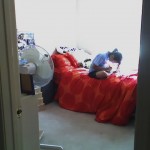 B was home all week while I was at a textbook training, so her room is under control.She is hard at work on her new bed, drawing the cover for her new book, "The Search for the Golden Dove." She still has to write the story though…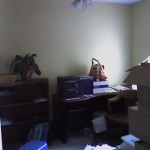 My office. I've been unpacking all morning in here. Talked with my sister in BKK for almost two hours and then my boyfriend for an hour.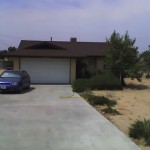 The cute house from the front. The garage is supposed to be 2-car, but I'll be lucky to get my puny hyundai in there, next to the weight machine (I know, I know, I have a weight machine – never used…)