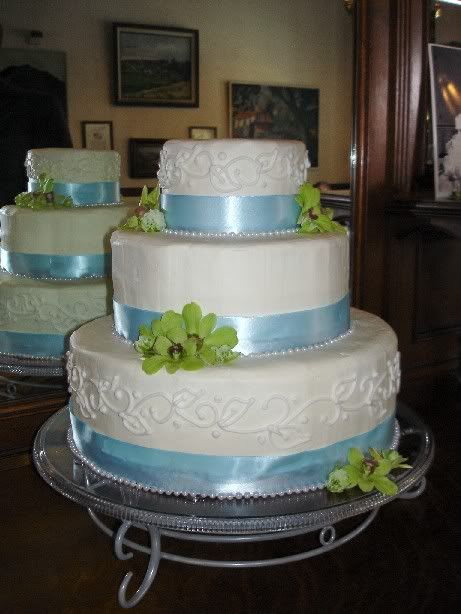 I suppose it was obvious when I was interviewing Songbae's friend Jennifer about cake-making, that I was considering baking our wedding cake myself. Just because it looked fun! (And because it's killing me to think about spending $300 on a cake…)
So, I thought I would just straight out ask Jennifer (who made the cake in the pic above – click on it to see other cakes she has made) if she thought it was worth it to pay for a wedding cake, and she replied:
"It is worth every penny to pay someone to do the cake due to the time you spend baking the damn thing alone! for a pretty large cake, in a home oven, you are spending about 8 hours of your day mixing up the batter and baking the various layers. the construction can be a bit challenging even if you have a bit of a clue as to what you are doing. the decorating is of course the best part of all. except for when you have a real picky bride telling you exactly what they want instead of just letting you (me) use the cake as your canvas! i suppose that is why i would probably have trouble going into business for myself. i want to make cakes i want to make! haha. all that being said, wedding cakes are really very expensive these days. you pay per serving, generally, and sometimes you pay way too much (most of the time in my opinion). there are a lot of cake makers out there too with various degrees of skill and talent so it's a big effort to search for what you like and someone you think can do what you want on a budget. anyway…. "
And then when I asked specifically about the wedding cakes on her photobucket site, she explained that they were…
"not too terribly difficult, just time consuming. for someone that doesn't make cakes super often, the hardest part will probably be the frosting. people tell me they have a hard time getting to be a) smooth and b) crumb free! mostly, though, those two were just time consuming. for ian and deb's cake, i took the friday off before the wedding and did spend 8 hours baking. for sam and julie's cake, i baked for about 4 hours each on thursday and friday nights before saturday wedding."
Alright, enough already – I'm not going to bake my own cake, especially in the heat of late June and with guests and family visiting. So, I finally called a local cake-baker. Wendy is an RN with a cake-baking business on the side – she has been making cakes for about fifteen years (and coincidentally she grew up right around where Chad lives in Laguna).
Her cake price is $2.75 a serving with a 100-serving minimum (whoops – better add some folks to the guest list…) I asked for the most basic cake (read: cheapest) and she suggested a three-tier with a 16-inch base, 14-inch middle and 8-inch top, frosted and decorated simply with live flowers. We can choose virtually any flavor for the cake layers (chocolate, spice, lemon, devil's food cake, german chocolate, mint chip, white or yellow etc) and any kind of decadent filling (bavarian creme, raspberry mousse, peach, pineapple, lemon and coconut creme…). Wow. I'm getting a sugar rush just thinking about it. She also has a 150-year old carrot cake recipe that she says is her specialty; however, that costs slightly more ($3.oo/serving).
So from baking my own cake, I have gone to dreaming about a cake with a carrot cake and cream cheese base, chocolate and raspberry mousse middle, and a top with white/yellow cake with lemon filling. Doesn't that sound yummy-licious?
[If you decide to try and make your own layered cake see Jennifer's general directions at another post here.]