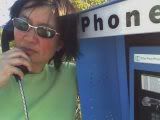 This is me checking an art work on Andrea Zittel's property last year at the hi-desert test sites. It is a working phone booth in the middle of the desert. I was very entertained and promptly called myself. My caller ID showed Andrea Zittel's home number! I actually already had her number, because I had introduced myself to her in Walmart a year or two ago. I recognized her from her photo in Women Artists (by Taschen). That was the first time I ever introduced myself to an artist stranger like that. She is part of the recent wave of artists from NYC who have "discovered" the desert (well, it's been a few years now).
Her work often explores domesticity, daily living, routine and art – so her actual house and the buildings around it are sometimes more interesting than the art objects/installations that she shows. My favorite part of that year's hi-desert test sites was not one of art pieces scattered throughout the desert or the parties in far-flung cabins, but her new concrete courtyard sunk into the side of a hill just in front of her house.
That's a lovely space – her office is in the center building. When I peeked in I was a little freaked by her organizational skills; she had shelves and shelves of identical notebooks. It reminded of an art gallery office, which on second thought makes sense. Zittel makes little distinction between office and home, function and form, or house and art installation.
I mentioned coincidence, because I've been meaning to post that profile picture for the last few days and today I got a membership email from MOCA letting me know that the show "Andrea Zittel: Critical Space" is opening next week and will be showing at the same time as "Wack! The Feminist Revolution" at the Geffen Contemporary at MOCA.