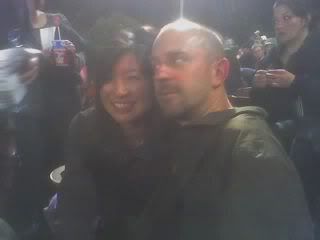 Me and Chad rocking out at the Muse concert last night. Can you see how the power of Muse is being transmitted directly into his brain?
The Muse concert last night at a packed Verizon Amphitheater was excellent. The sound was great, the show was solid, and even the lights and visuals were above par. Muse really know how to scramble your mind with segues between melodic tunes and heavy metal riffs, and then searing noise and static. I especially loved how the lighting went to erratic white lights during the most radical sections of their sounds – very conducive to moshing in my own little 2×2 foot concrete space in front of my chair with Chad's thumb hooked in my belt loop. Good thing he kept me leashed – I was having flashbacks to Motormouth and Lords of the New Church concerts – My neck's a little sore today.
The delicious chicken kebab and wake-up coffee (coffee with espresso hits) and the mixed-age crowd really enhanced the evening as well. damn. I forget how much I enjoy a good live show.