Camping at the beach is always a treat in SoCal. To the coastline I say: I love your bone structure.
No cell phone reception for 48 hours helped me stay focused on the moment.
My husband was content and my son was deliriously happy just being outdoors. So, I was happy.
We spent all of Thanksgiving day hiking along the coast. We brought shovels to dig holes. Christian climbed dunes and jumped down. Over and over and over again.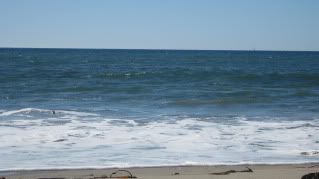 A wild sea lion came to watch. Can you see his head peeping out at the edge of the white receding wave? Christian WAS being pretty entertaining and he probably smelled like salami from lunch.

I love campfires. Chad started both our evening fires with the flint/magnesium kit Sierra got me as a souvenir this summer. Chad's scraping the magnesium into a little pile and then making sparks with by scraping a piece of metal across the flint. This is his first attempt. He got a blaze going impressively quickly.
I love s'mores too – we did a pretty good job of working our way through most of a bag of s'mellows.
Everything we ate was exceptionally delicious. Thanksgiving dinner was happy pork chops with grilled veggies. The famous Jalama Burger at the camp store and grill was so good that I wished we hadn't brought so much food camping! We'll do major holiday food when my parents come to visit at Christmas.
Way out in the ocean, we could see several oil rigs. The blops of tar on the beach were slightly menacing and we took care to give them wide berth.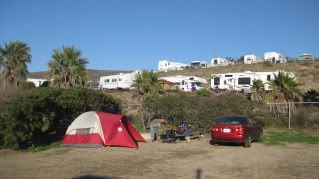 While the reviews on tripadvisor.com complained about locals who would pay for a week of camping, but just leave a car to hold their spot until the weekend, this strategy worked for us; we basically had two campsites to ourselves the entire time – despite the fact that the campground was completely booked. (It's very popular with dog owners, surfers, and fishermen.)
It was chilly though. Nothing like a bit of brisk to make you feel alive.