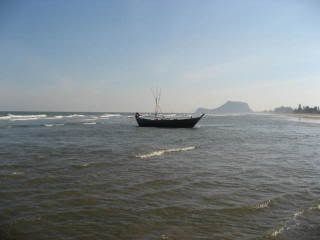 Our holiday to the beach was fabulous.
Sue did all the planning (thanks Sue!) and so we took a "VIP Taxi" (a privately-owned minivan taxi) from the house all the way to the hotel door at Hua Hin, which was as economical as all of us taking the train, but not as cheap as taking the bus. I'd post the taxi driver's name and phone number, except that we spent the last two hours of tonight's drive nervously checking the rearview mirror to see if he was nodding off and making lots of idle chitchat in an attempt to keep him awake. We speculate that after he dropped us off on Friday he spent the weekend partying it up in Hua Hin and only woke up in time to pick us up today. Hua Hin is a beach town four hours from Bangkok on the Gulf of Thailand. It's where the king keeps his summer palace, "Klai Kang Won," which means "Far From Worry."
Actually, we did one better than Hua Hin – we stayed 23 km south in a town called Pranburi. The beaches were GORGEOUS. And while there is lots of construction going on down the road, for the moment the area is still relatively undeveloped and there were not a lot of tourists.
Well, to be honest, when we first arrived we were slightly disappointed by the beach and accommodations. This seems to be typical of my Thai experiences: I arrive and my Western-trained senses don't find the typical characteristics of Western luxury – I start by being a little let down and then I grow to appreciate a different style of luxury. In this case, we were paying a lot by Thai standards (2,500 baht =$81) for a "double" room, which turned out to really be one large room separated by a counter. While the room had obviously been crafted by somebody artistic it was still very Thai, makeshift, and everything was made of concrete. For the money we were paying, we were expecting a room with more Western amenities; perhaps a sofa without a rip in it, or curtains that fully covered the windows, a fridge, or desk or chair even… However, we soon discovered that we were getting plenty for our money. We stayed at a "resort" called Preeburan. They have five funky cottages.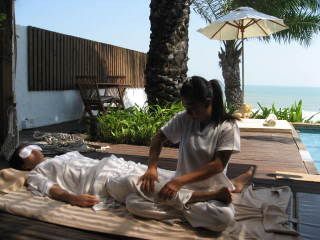 Turns out that Pranburi is home to some very ritzy spas, notably Evason and Aleenta, and all their rates start closer to $300 US a night. We were able to enjoy the food, pools, and massages of the fancy spas by day and still crash out at our very friendly comfortable room down the road at night. Here is a pic of Sue getting a 1 1/2 hour Thai massage at Aleenta. Each room opened out directly to the infinity pool which butted up to the bar and restaurant. The beach in front was cleaned regularly; everything there was extremely well-thought out and luxurious. I especially loved the showers; each room had a private outdoor shower with a rainwater showerhead with all the shower amenities hanging from the branch of a well-established tree. It was like a private courtyard for your bathroom.
The shower head is at the top right of the picture (it's hard to see).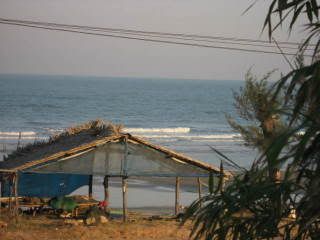 When we arrived, the front of our place was lovely and inviting with blooming bougainvillea and frangipani sprawled over a low fence and archway. Still we noticed that we were quite a ways down the road from many of the other resorts and across the road in front of our beach access were a few untidy-looking fishermen shelters. But the beach was right there! We were a tad apprehensive because nobody was around, either on the beach or in the water, but it turned out we were just a day ahead of the weekend rush. Once we got into the water, all our cares washed away. We guessed that the water temp was about 25 Celcius or 73 Fahrenheit – just amazing – the waves were gentle and the water was shallow for hundreds of meters out. I curled up in a bobbing ball and let the current drift me down the shore; I floated; I swam. It was the kind of water you could stay in all day long. Nabi Grace splashed near the shore with her mom.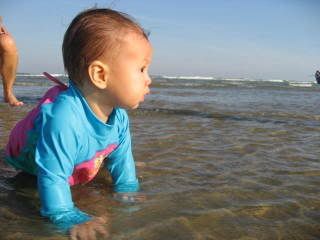 And it turned out that being by the fishermen meant we could watch them and snap picturesque shots like the one below. And the one at the top of this post.
And I really stopped minding that when I looked back from the water to the shore that this was my view. It turned out that all of us: Sue, Joss, and I, really love being off the beaten path – and if we had stayed at Evason, which Sue had considered – we never would have spent such a great day at Aleenta, met the sweet poochies (Golden Retrievers) and baby chicks at our hotel, or found our way to the best Thai seafood I've ever had.
The "restaurant" or common area wasn't as fancy as Aleenta or Evason, but we got a free breakfast and Nabi Grace could make all the noise she wanted. For breakfast we had the choice of "American" or congee, which is soup with rice, pork and cilantro. If we wanted something sweeter, we just need to hail down one of the passing local snack carts for a banana pancake or young coconut. We also munched on dried roasted baby squid, which wasn't as delicious as I had hoped.