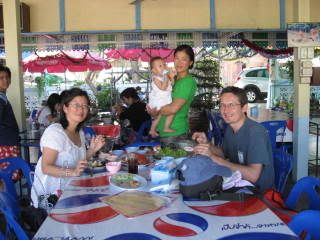 On our last day at the beach, we thought we'd treat ourselves (again) and go try out lunch at Evason. However, we woke up from our morning naps and discovered that we didn't have enough time to walk the couple kilometers to Evason and back, so we mooched a ride from our hospitable host. He asked what we were going for and when he found that we were going for lunch he insisted on taking us elsewhere.
He promised that the food would be "aroi, aroi" which means VERY DELICIOUS. And he was right. It was the best food I've ever had in Thailand – and it's no surprise that we were the only fareng (foreigners) in the entire place.
We had mussels steamed with basil and fish sauce, two humongous crabs, several dozen oysters, and garlic-fried calamari. The oysters were amazing: they came fresh on a plate of lettuce under ice and accompanied by an array of small dishes: fresh-cut garlic, crispy carmelized onions, lemon juice, sweet-spicy sauce, greens, and sea salt. Each oyster was painstakingly topped by a little of each – and eaten in one gulp.
If you ever have the fortune to be in the area, I insist that you try this place. It's called UDOM, but there is no English on the sign – just look for this sign.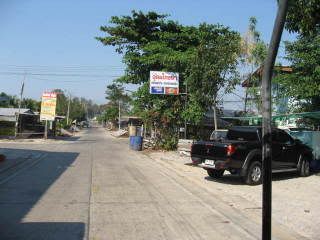 There is only one road along the beach. This restaurant is on the same road, approximately one kilometer north of Evason in town, on the beach side. Likely every local within 50 km knows of it.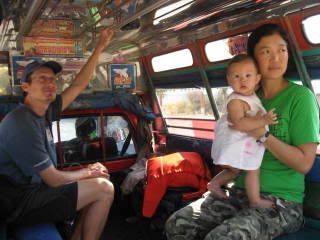 We called a "taxi" to take us back, but we got a "bus" instead, which as you can see, is simply a pickup truck with a covered top and narrow, barely cushioned seats. We got back in plenty of time, because our ride to Bangkok was running late, but Sue's not feeling well because she hit her head getting in; also a typical Thai experience. Notice no seatbelts here either.